STEPHENVILLE – Tarleton women's basketball is picked to finish fifth in the annual Lone Star Conference preseason poll that was released by the league as part of Online Media Day Wednesday afternoon.

After a 22-win season and advancing to their third straight NCAA Tournament, the Texans received 659 votes in the poll. The defending National Champions Lubbock Christian is picked to win the LSC with 813 votes and 33 first-place nods. With 787 votes and 12 first-place selections, West Texas A&M is picked second, followed by Angelo State (733), and Texas A&M-Commerce (667) as the only teams ahead of Tarleton.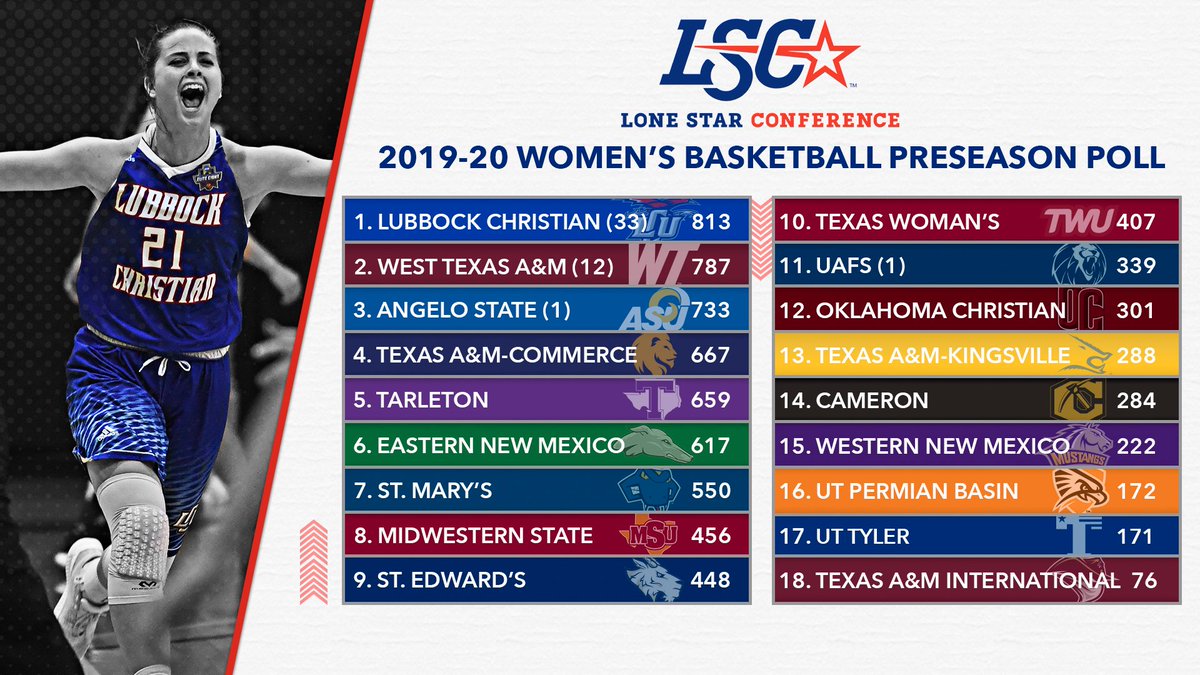 The LSC preseason poll is voted on by LSC head coaches, sports information directors and media representatives throughout the league.

"I'm excited about the new-look Lone Star Conference," said sixth-year head coach Misty Wilson. "It definitely provides some strength of schedule and you don't drop off with any game. The LSC was strong last year and it's even stronger this year with the reigning National Champions joining the league. I'm looking forward to seeing this group attack this season and ready to get to work."

The Texans return five letter winners and two starters in All-American Mackenzie Hailey (15.6 points, 7.3 rebounds) and Kylie Collins (4.4 points, 2.1 assists). Both Hailey and Collins are four-year starters for the Texans. Also returning are Lucy Benson (2.4 points, 2.8 rebounds), Kandyn Faurie (2.1 points, 1.2 rebounds) and Marissa Escamilla (1.8 points, 1.2 rebounds). The five returners helped Tarleton go 22-9 overall and 14-6 in the LSC last season while earning an at-large bid to their third straight NCAA Tournament.

Coach Wilson and her staff filled out the roster by adding nine players, featuring one Division I transfer (Alexa Hoy, UTEP), two junior college transfers (Erin Brumley, Temple College; Kaitlyn Guillory, Colby CC) and five high school signees. Wilson also added all-conference Texan volleyball player Amber Strange who will transition over to the hardwood after volleyball season ends.

Tarleton will open the season on Nov. 8-9 for the Texan Tip-Off Classic against Adams State and Colorado Mesa. For more information on Tarleton Women's Basketball, visit TarletonSports.com.
---