STEPHENVILLE – After its second straight 40-win season, Tarleton Softball was picked to finish third in the annual Lone Star Conference preseason poll.

All-American junior outfielder Georgia Capell was selected as the Lone Star Conference Preseason Player of the Year.

The LSC preseason poll is voted on by conference coaches, Sports Information Directors and media members. Tarleton collected 594 votes and one first-place vote. After advancing to the 2019 National Championship game, Texas A&M-Kingsville is picked to finish atop the league with 692 votes and 32 first-place votes. Texas A&M-Commerce is the only other team ahead of Tarleton, with the Lions picked second with 666 votes and seven first place selections.

Rounding out the top five in the poll is Cameron and Oklahoma Christian, who tied for fourth with 527 votes. The rest of the poll includes: West Texas A&M (6), Angelo State (7), St. Mary's (8), Lubbock Christian (9), UT Tyler (10), Texas A&M International (11), Midwestern State (12), Texas Woman's (13), St. Edward's (14), Eastern New Mexico (15), UT Permian Basin (16) and Western New Mexico (17).

Capell is coming off a sophomore campaign where she became the first two-time All-American in a season in program history after earning D2CCA All-America status and was also an NFCA All-American. The junior outfielder from Midlothian started all 55 games for Tarleton in 2019 with a .387 batting average, and school single-season record 68 RBI and .822 slugging percentage to earn first-team All-LSC honors. She led the LSC in RBI and doubles with 17. Capell finished the season among the top 11 in NCAA Division II in five statistical categories: RBI (68), RBI per game (1.24), home runs (18), home runs per game (0.33) and total bases (134). She was also named to the LSC All-Academic team.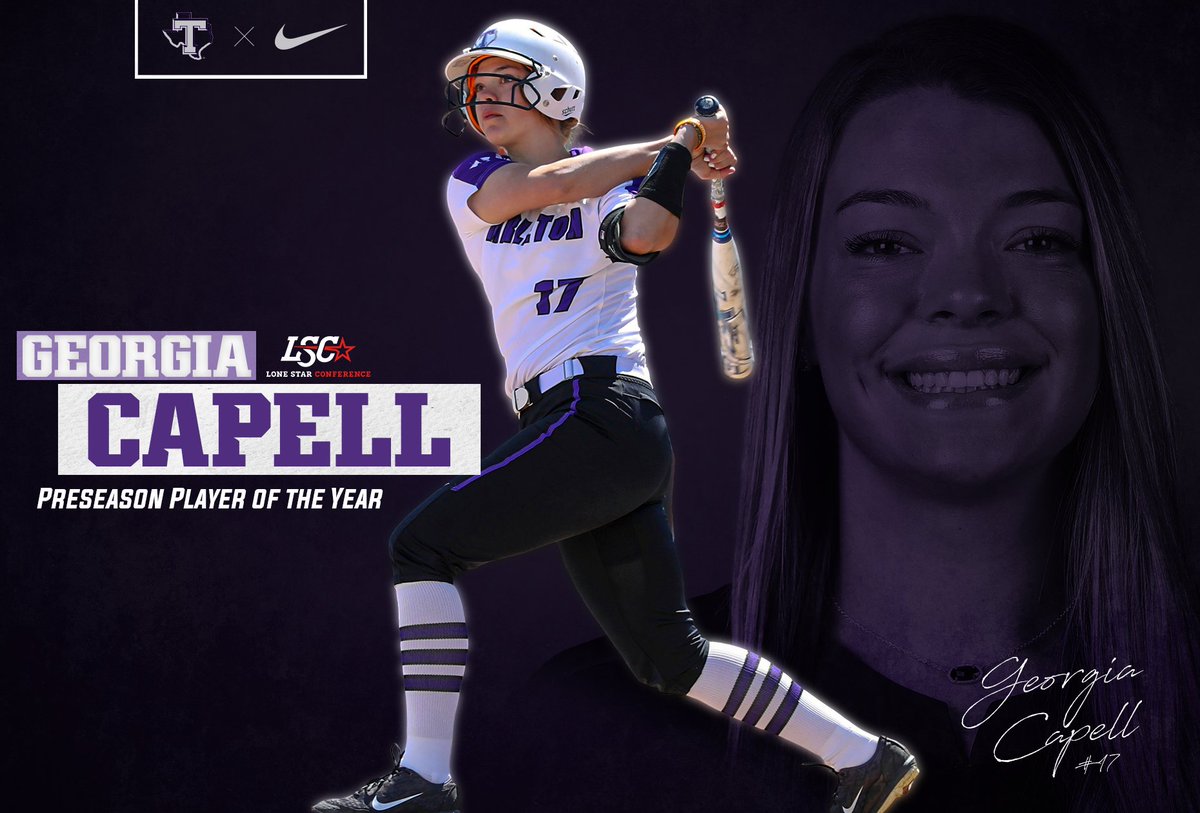 As a team, the Texans went 40-15 and advanced to NCAA South Central Regional Tournament for the third straight year under head coach Mark Cumpian. The Texans have the most wins in the Lone Star Conference over the last two seasons with 90.

The Texans return four starters including three first team All-Lone Star Conference selections in Capell, Jordan Withrow, and Destiny Crumpley. Withrow is also a two-time All-American by FastPitchNews.com. In addition, the Texans return outfielders Kadyn Kirkpatrick and Jessica Lee who combined to start 60 games last season.

Tarleton opens the season in Houston for the Arkansas Tech Winter Invitational with six games between Jan. 31 and Feb. 2. The Texans take on Minnesota Duluth in the season opener on Jan. 31 at 10 a.m. For more information on Tarleton Softball and the complete schedule and roster, visit TarletonSports.com.